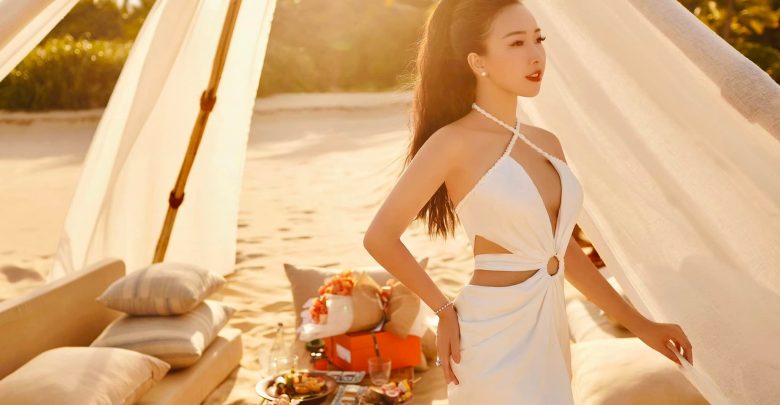 Zannier Hotels Bai San Ho Phu Yen – a brand new luxurious hotel in the land of Phu Yen is waiting for you to come and explore. Situated next to the stunning beach, amidst lush greenery and extremely environmentally friendly, Zannier Bai San Ho has a rustic yet extremely luxurious look.
Zannier Hotels Bai San Ho Phu Yen – a simple but luxurious resort in the paradise of Phu Yen, Vietnam
It is a luxurious resort hidden in a vast, 98-hectare nature reserve in Phu Yen province, along a pristine white sand beach that stretches for 1km. True to its name, the bay here is a paradise for magnificent coral reefs, surrounded by rugged hills, green rice fields, and a long coastline.
Located far from touristy areas such as typical resorts, Zannier Hotels Bai San Ho offers a unique opportunity for travelers to discover and experience untouched elements of the island. Bai San Ho is one of the most diverse biologically rich areas in Vietnam, boasting a variety of flora and fauna. Visitors can observe both the stunning vegetation and the sea scenery.
Zannier Hotels Bai San Ho is a luxurious resort nestled in a secluded natural conservation space in Phu Yen province, Vietnam. The resort features 71 spacious villas (46 of which have private pools), three restaurants and bars, a relaxing spa, a meeting room, and a center offering various beach activities, water sports, and outdoor adventures.
Additionally, when visiting Zannier Hotels Bai San Ho, guests can experience a variety of services such as swimming in a 20m long pool, exercising, playing tennis, and enjoying a children's play club. Moreover, Zannier Hotels Bai San Ho also organizes underwater activities such as diving, fishing, surfing, and kayaking… Land-based sports activities include walking, running tours, cycling, badminton, and various beach sports. In the wild vegetation resort area, guests only need to prepare themselves with good health and come to Zannier Hotels Bai San Ho for unlimited entertainment options.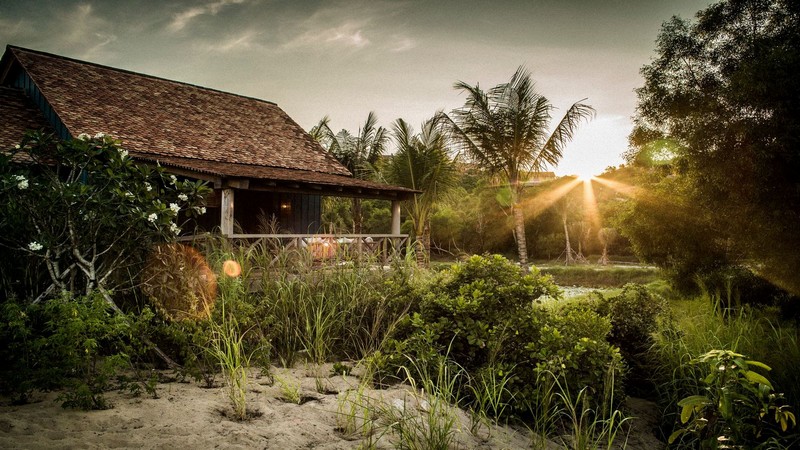 Du lịch Quy Nhơn – Phú Yên: Lịch trình và kinh nghiệm từ A đến Z
Du lịch Phú Yên từ A đến Z – chia sẻ cực chi tiết từ thổ địa
Zannier Bai San Ho has 3 restaurants: Nha O, Ba Hai, and Lang Chai
Nhà Ở
With an iconic symbol of a lively house, Nhà Ở (The House) is situated right next to the pool of the resort center, overlooking the bay from atop a hill. Here, guests can start their day with breakfast, light bites or drinks while sunbathing by the pool, enjoy a delicious lunch or plan a romantic dinner with loved ones.
Bà Hai Restaurant
Bà Hai Restaurant is built in traditional Vietnamese architecture with a sloping roof made of bamboo, thatch, and wood, offering a breathtaking view of rice fields. Here, diners can enjoy characteristic dishes from various regions of Vietnam. The restaurant only opens in the evening and provides four fixed menus, including options with vegetarian dishes.
Làng Chài Restaurant
Located right next to the beach, Làng Chài Restaurant showcases the typical style of a fishing village. The traditional thatched huts are built facing the sea, giving you a feeling of both familiarity and novelty. The restaurant serves freshly caught seafood dishes, which are prepared upon the guests' request in the open kitchen. In addition, the restaurant also serves grilled meat and wood-fired pizzas in the barbecue hut, providing customers with an unforgettable dining experience.
The types of rooms at Zannier Hotels Bai San Ho Phu Yen
The villas at Zannier Phu Yen are built in unique architectural styles, nestled amidst the stunning natural scenery. The interior is equipped with modern amenities including a large king-sized bed, bathtub and shower, free Wi-Fi, television, safe, Bluetooth connectivity, minibar, work desk, and air conditioning.
Paddy Field Villa
Inspired by the wooden houses of fishermen made from natural wood, designed to face the rich paddy fields. The green walls brighten up the space and are decorated simply, creating a connection between the inside and outside, blending nature, sunshine and wind. The sun loungers near the windows are lit up by antique lamps and are a great place to lie down and enjoy the beauty of the paddy fields. Paddy Fiel consists of 25 spacious (49m2) wooden villas, each with a separate balcony. There are 6 private villas and 19 villas with a shared courtyard facing the resort's paddy fields. The convenient bathrooms have double vanities, bathtubs and separate shower stalls.
Hill Pool Villa
Inspired by the architecture of the long houses of the Ede people, situated on hills with a view of the sea. These villas evoke the typical long houses found in the Central Highlands. The original architecture of the long house created a clever continuity between the rooms. The Hill Pool Villas are dominated by brown tones, harmoniously blending with nature, bringing a rustic and down-to-earth atmosphere. Bamboo is the material used for the flooring and exterior covering.
Hill Pool consists of 25 villas, including 23 one-bedroom villas (23m2) and 2 two-bedroom villas (91m2). Each villa comprises a bedroom, an en-suite bathroom with a bathtub and a standing shower, a dressing room, a toilet, a patio overlooking the pool, and a balcony. Additionally, all villas feature a private pool situated on the top of a lush hill surrounding Bai San Ho Bay, offering stunning views of the resort grounds and the sea.
Beach Pool Villa
The architecture of the Champa people is built along the coastline. Each villa has its own private swimming pool, balcony, and a pathway leading straight to the beach. The villas are built on a raised platform of 30cm and fenced with wood. The walls are covered with natural materials made from clay, sand, and straw. The roof of the villa is constructed from Chò Chỉ wood, a fragrant and moisture-resistant type of green tree commonly found in the tropical forests of Vietnam. The dominant interior colors are beige or cream, with simple designs serving as a reminder of the purity of the sea. Similarly, the decorative fabrics evoke a sense of relaxed beach living, and the walls are adorned with painted wooden panels.
Beach Pool has 21 villas, including 18 one-bedroom villas (59 m2) and 3 two-bedroom villas (93 m2). The bedrooms feature King-size beds, en-suite bathrooms, air conditioning, TV, minibar, open wardrobe, outdoor shower, and a separate toilet. The bathrooms also have double vanities, a bathtub, and a separate shower. All villas come with a private pool, direct access to the white sandy beach, and a breathtaking ocean view, making them ideal for families.
Private Residences
These are villas with 3 to 4 bedrooms, each with a total area ranging from 241 to 304 square meters, and a garden of approximately 120 square meters. Each villa is built over 2 floors facing the sea, including an open kitchen, dining area, spacious living room, bedroom with en-suite bathroom, outdoor hallway, balcony, outdoor swimming pool, and a room for a housekeeper. The owners of these villas are entitled to full use of the services and facilities within the resort.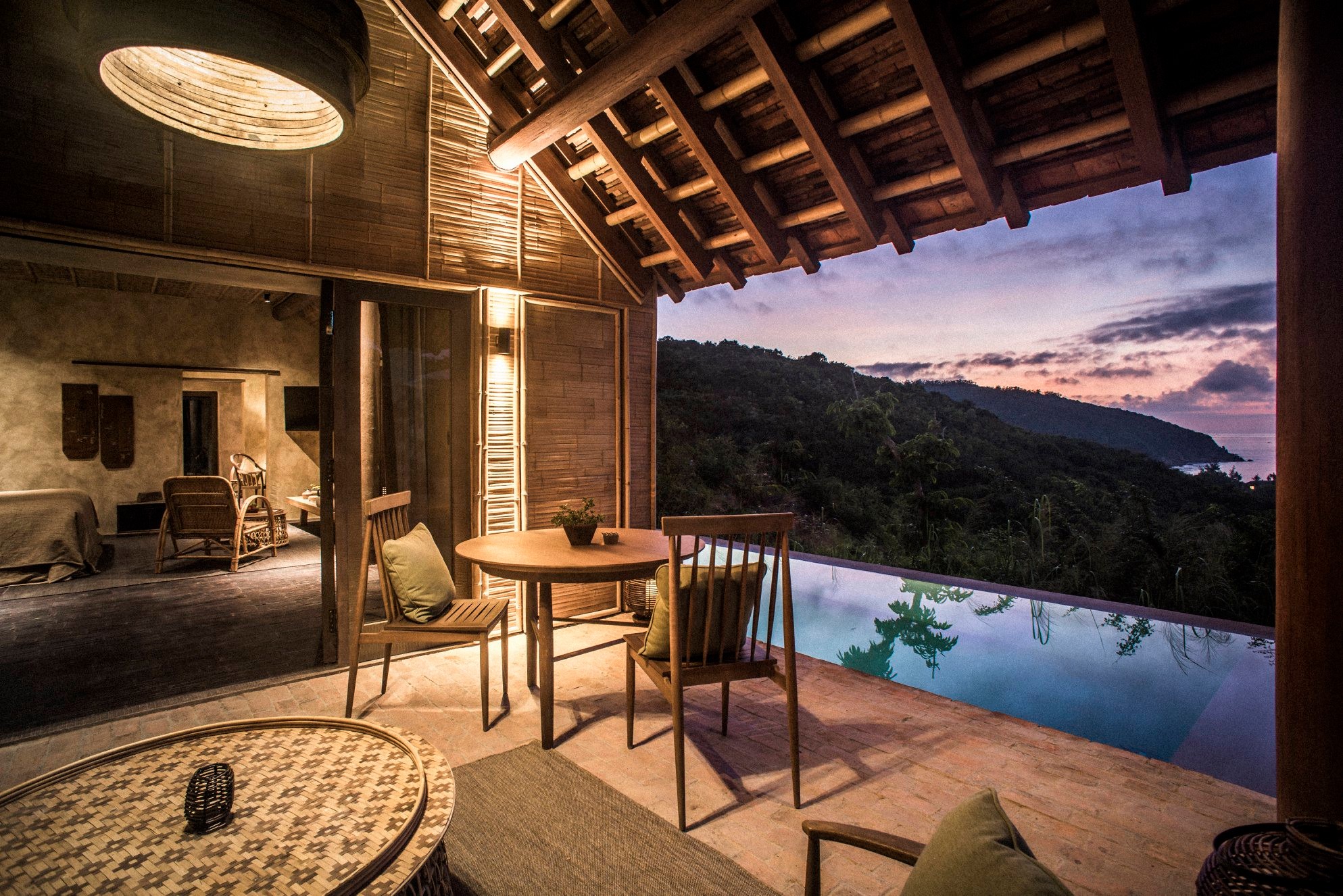 BAR & SPA AT ZANNIER HOTELS BÃI SAN HÔ PHÚ YÊN
Hầm Bar
Hầm Bar brings a cozy and gentle atmosphere, combining harmonious architecture between Vietnam and France. With Rococo-style interior design and Western influence, it reminds diners of the Indochinese period. Come to the Hầm Bar to enjoy sweet and spicy cocktails in a romantic and flavorful space.
Hoa Sen Spa
At Hoa Sen Spa, there are 7 treatment rooms, including 3 double rooms, a hammam bath, a dry sauna, a tea room, and spacious relaxation areas, ideal for relaxation. When visiting Hoa Sen Spa, guests will feel a sense of peace and relaxation as if being immersed in the fragrant and gentle lotus petals, forgetting all about time.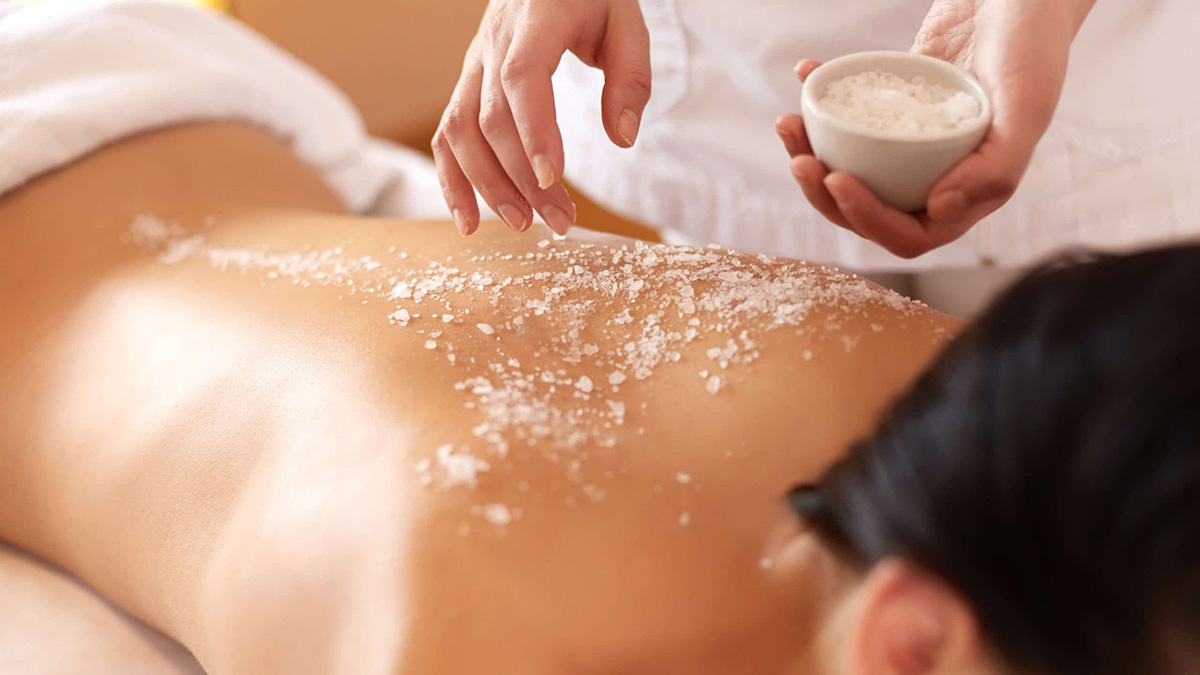 ĐÁNH GIÁ BÀI VIẾT NÀY
Đánh giá 5 / 5. Lượt: 4
Hotline đặt Combo – Phòng khách sạn – Tour du lịch – Vé máy bay giá siêu tốt: 0908 341 702