Bangkok is the capital of Thailand and one of the most popular tourist destinations in Asia. If you are planning a trip to Bangkok, Dulichchat.com recommends spending about 3 to 4 days exploring this vibrant capital city of Thailand! Below are the top 8 must-see tourist attractions in Bangkok that you cannot miss when visiting this city. Let's plan your itinerary now!
Top 8 must-see tourist attractions in Bangkok, Thailand that you shouldn't miss!
Wat Phra Kaew and the Grand Palace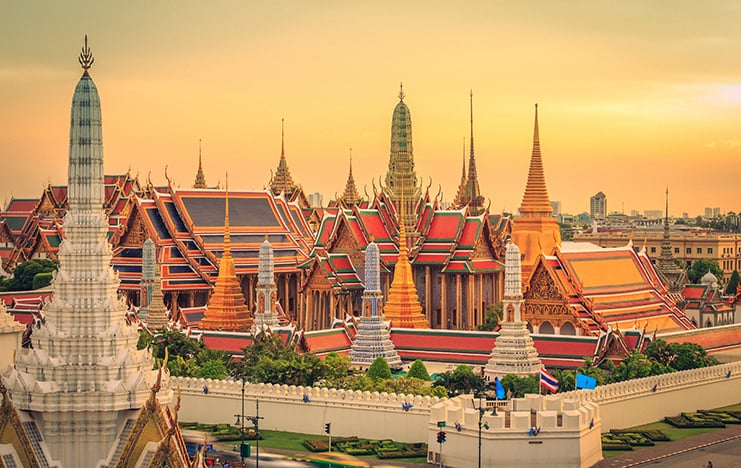 These are two of the most famous landmarks in Bangkok, Thailand. They are a great tourist destination to explore the unique culture, history, and architecture of Thailand.
Wat Phra Kaew was built in the 18th century and is home to the Phra Kaew Morakot, the most precious emerald Buddha statue in Thailand. The temple is located within the grounds of the Grand Palace, which was built in 1782 and served as the residence of the Thai kings for over 150 years. The Grand Palace features a blend of Thai and Western architectural styles, creating a unique and attractive style.
At Wat Phra Kaew, you can admire the emerald Buddha statue and explore the architecture of the surrounding temples. At the Grand Palace, you can explore the royal halls, palaces, and exhibition rooms. You will appreciate the exquisite artworks and architecture, as well as the pride and culture of Thailand in every detail of this area's architecture.
An important note when visiting Wat Phra Kaew and the Grand Palace is to dress appropriately, not wearing shorts or sleeveless shirts. If you are not properly dressed, you can borrow suitable clothing at the ticket booth before entering.
Admission prices to Wat Phra Kaew and the Grand Palace may vary depending on the time of year and the nationality of the tourist. Typically, the entrance fee for international tourists is 500 baht (about 16 USD) for both locations.
The address of Wat Phra Kaew and the Grand Palace is Phra Borom Maha Ratchawang, Phra Nakhon, Bangkok 10200, Thailand. You can easily reach this location by taxi, bus, or tuk-tuk. If you want to take a bus, you can find routes to the Sanam Luang or Khao San Road area and then walk about 10 minutes to Wat Phra Kaew and the Grand Palace.
Chatuchak Weekend Market
Chatuchak Weekend Market is one of the largest and most famous markets in Bangkok, Thailand. It sells a diverse range of products, from clothes, accessories, electronics, home appliances, ornamental plants, to food, drinks, and souvenirs. Many Vietnamese tourists are fond of shopping at Chatuchak, often bringing along large suitcases to indulge in reasonable-priced shopping.
Chatuchak Market has over 15,000 stalls and 27 sections, spanning an area of approximately 27 hectares. It only operates on weekends (Saturday and Sunday) from around 9 am to 6 pm. Therefore, visitors should keep track of the schedule to have plenty of time for shopping.
The address of Chatuchak Market is Kamphaeng Phet 2 Rd, Lat Yao, Chatuchak, Bangkok 10900, Thailand.
The average price at Chatuchak Market depends on each product type, but they are mostly competitive. Many products can be purchased for 50-500 baht (equivalent to 2-16 USD), depending on the quality and rarity of the products. For food and drinks, the price depends on the type of product, but they are mostly reasonable. Visitors should pay attention to bargaining and carefully inspect the products before purchasing to avoid buying counterfeit or low-quality items or being overcharged.
The main products sold at Chatuchak Market include:
Clothes and accessories: shirts, pants, dresses, shoes, bags, hats, scarves, bracelets, necklaces, rings, jewelry, etc.
Home appliances and handicrafts: vases, decorative items, plant pots, home appliances, furniture, pictures, etc.
Electronics and technology: phones, tablets, cameras, smartwatches, etc.
Food and drinks: fast food, snacks, fruit juice, tea, coffee, etc.
Ornamental plants: various types of plants, ornamental flowers, seeds, grass carpets, pottery, lanterns, picture frames, etc.
In addition, Chatuchak Market also sells typical Thai items such as dolls, board games, spoons, plates, gift boxes, cups, statues of Buddha, etc.
Khao San Road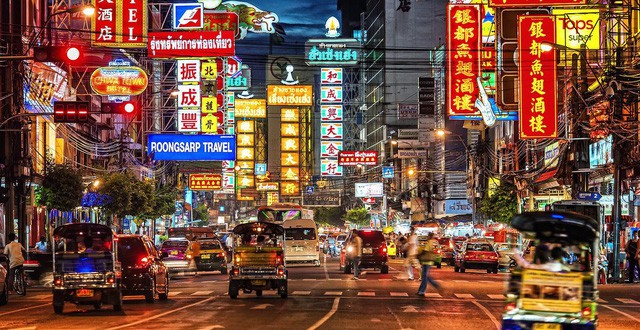 As one of the most famous streets in Bangkok, Thailand, Khao San Road is a street filled with bars, restaurants, souvenir shops, and homestays/hostels for foreign tourists. This is the "Western" part of Bangkok, where you can find all kinds of entertainment, lively parties at night. For young people traveling in groups, Khao San Road will surely meet all of your diverse party needs! This street is also a gathering place for many "cool" tattoo shops in Thailand. Surely, this will be a very fun entertainment district for young people when visiting Bangkok.
Khao San Road is located in the center of Phra Nakhon District, Bangkok. Khao San Road is about 1.5 km north of the Grand Palace and Wat Phra Kaew, about 5 km southeast of Siam Square, and about 33 km east of Suvarnabhumi International Airport.
Khao San Road is known for its lively and bustling atmosphere, especially at night. This is the center of entertainment activities for tourists, with bars, restaurants, gift shops, and massage parlors. In addition, you can also rent bicycles and motorbikes to explore the city.
Furthermore, Khao San Road is also famous for its street food and typical Thai dishes, such as Pad Thai, Tom Yum, Som Tam, Khao Pad, Mango Sticky Rice, and many other dishes.
With its central location and diverse activities, Khao San Road is often a popular destination for many tourists when visiting Bangkok.
Wat Arun
Wat Arun, also known as the Temple of Dawn, is one of the famous tourist destinations in Bangkok, Thailand. The temple was built in the 17th century and stands out with its unique and magnificent architecture.
The address of Wat Arun is 158 Thanon Wang Doem, Khwaeng Wat Arun, Khet Bangkok Yai, Bangkok 10600, Thailand. Wat Arun is located on the east bank of the Chao Phraya River, in the Tha Tien area, about 4 km from Wat Phra Kaew.
The admission fee for Wat Arun is 50 baht for adults and 20 baht for children (subject to change without prior notice). Wat Arun is open from 8 am to 5 pm daily.
Wat Arun is famous for its unique architecture, built from glazed tiles and ceramics, creating delicate decorative details. The temple has a main tower that is 79 meters high, with staircases leading to the top, creating a beautiful panoramic view of the city. In addition, Wat Arun also has small temples, bas-reliefs, Buddha statues, colorful floral patterns, and traditional paintings.
Visitors to Wat Arun can witness the unique architecture, learn about history…
Siam Paragon and CentralWorld
Siam Paragon and CentralWorld are two large and famous shopping centers in the center of Bangkok, Thailand.
Siam Paragon is one of the largest shopping centers in Bangkok, located at 991 Rama I Road, Khwaeng Pathum Wan, Khet Pathum Wan, Bangkok 10330, Thailand. It has an area of up to 500,000 square meters and is divided into 10 floors with over 250 stores including international and local brands. Popular items at Siam Paragon include fashion, jewelry, watches, shoes, handbags, food, electronics, books, and more. In addition, Siam Paragon also has high-end stores of famous designers who create unique and innovative products.
The average price at Siam Paragon is usually quite high, suitable for customers who want to shop for luxury and famous brands. However, there are also stores with average and lower prices.
CentralWorld is one of the largest shopping centers in Bangkok and a favorite shopping destination for many tourists. It is located at 999/9 Rama I Road, Khwaeng Pathum Wan, Khet Pathum Wan, Bangkok 10330, Thailand. CentralWorld has an area of up to 550,000 square meters and is divided into 7 floors with over 500 stores and restaurants, cinemas, cultural and entertainment stages.
Popular items at CentralWorld include fashion, shoes, handbags, household items, food, electronics, and more. CentralWorld also has stores of famous brands and fashion designers. In addition, CentralWorld also has a children's play area, cinemas, performances, and art events.
Prices at CentralWorld are quite diverse, from budget stores to luxurious and expensive stores. You can find products at very cheap prices as well as products with higher prices, suitable for all customers.
The above are detailed information about Siam Paragon and CentralWorld in Bangkok, Thailand. These two shopping centers are considered the best shopping destinations in Bangkok, attracting many tourists to visit and shop for luxury and unique products.
Chinatown
Famous for its delicious and unique street food, located in the heart of Yaowarat district in the city, Chinatown is an ideal place to enjoy food, shopping, and explore Chinese culture.
Chinatown in Bangkok is known for its street food stalls such as hủ tiếu, bánh canh, phở, steamed rice, grilled rice paper, and fresh seafood. In addition, tourists can also enjoy specialty dishes such as cinnamon rolls, milk tea, cordyceps, lobster, and horsefish.
In addition to food, Chinatown also has many other interesting attractions, including:
Klong Thom Market: This market is famous for clothes, shoes, and accessories.
Phra Maha Uma Devi Temple: An Indian temple famous for its procession during the Holy Bible Day of Indian religion.
Odeon Shopping Center: A large shopping center in the Chinatown district with many food and souvenir shops.
The address of Chinatown is Yaowarat Road, Samphanthawong, Bangkok 10100, Thailand. You can easily reach Chinatown by taxi, bus, or motorcycle.
Vimanmek Mansion
One of the most fascinating cultural and historical destinations in Bangkok. Built in the 19th century, Vimanmek is the largest wooden house in the world with over 80 rooms and a large garden.
Vimanmek contains many objects, documents, and images related to King Rama V and the Chakri dynasty. Tourists can explore and learn about the history and culture of Thailand through the exhibits displayed in the museum.
The address of Vimanmek is Ratchawithi Rd, Dusit, Bangkok 10300, Thailand. Opening hours are from Monday to Sunday, from 9:00 am to 4:00 pm.
Admission ticket prices are around 500 baht for adults and 250 baht for children. In addition, tourists can also buy combination tickets to visit both the Vimanmek Museum and the Royal Palace for around 600 baht for adults and 300 baht for children.
To get to Vimanmek, you can use taxi or bus services, or drive or rent a motorcycle. The museum is also located near other destinations such as Suan Amporn and the Royal Palace, so tourists can visit them on the same trip.
Wat Saket (The Golden Mount Temple)
Wat Saket, also known as Wat Saket Ratcha Wora Maha Wihan, is a temple located on top of a high hill at 344 Chakkraphatdi Phong Road, Pom Prap Sattru Phai District, Bangkok, Thailand.
The temple has a long history, having been built in the 18th century and restored in 1800. It is an important location for Thailand's famous Loy Krathong festival, which takes place annually in November.
The entrance fee for Wat Saket is 50 baht (approximately 1.5 USD) for foreign tourists and free for locals. The temple is open from 9am to 5pm.
The temple stands about 80 meters high and has 318 steps leading up to the top of the hill. At the top, visitors can enjoy panoramic views of Bangkok and the surrounding streetscape. Within the temple grounds, you can find many ancient buildings, statues, and artworks, including a 5-meter-tall golden Buddha statue.
Visitors should dress respectfully and observe ethical guidelines when visiting Wat Saket. Permission and fees are required for photography. Wat Saket is one of the famous temples in Bangkok and offers visitors a unique and exciting experience to learn about Thailand's culture, religion, and history.
ĐÁNH GIÁ BÀI VIẾT NÀY
Đánh giá 5 / 5. Lượt: 2
Hotline đặt Combo – Phòng khách sạn – Tour du lịch – Vé máy bay giá siêu tốt: 0908 341 702